About Us
Department of Marketing and Logistics Management (DMLM) was established in 2007. The department aims to meet the challenges of international competition, satisfy the needs of industry to develop in line with the trend of knowledge-based economy and catch up with the world's technical progress. In terms of the department's research goals and teaching design, future trends, knowledge development, and progress of technology, we realize that the emerging service sector craves for people proficient in marketing and logistics management. Therefore, we believe "Marketing and Logistics Management" is truly helpful to enhance the competition and additional value of businesses all over the world. The department curriculum aims to meet the trends of the industrial development; the curriculum design emphasizes both theory and practice, whereas teaching equipment keeps pace with market trends and technological application, foreign language proficiency improvement, professional certification, and spares no effort in promoting internship and competition opportunities. Therefore, this department aims at cultivating professionals in marketing, logistics and enterprise chain management with a balanced development of theory and practice, and its mission is to improve the human quality of related industries in the central region.
To sum up, based on in academic development characteristics and demands from social environment, the department is able to follow long-term development goals of the university, and to plan for development strategies in "professionalization, digitalization, holistic, and internationalization". The department's ambition is to train students with both logic and creativity, with equal emphasis on technology and humanities, to become professional talents in marketing, logistics and enterprise chain management. Each administrative measure has organized points and executes business in accordance with the law, which can effectively operate according to the development plan of the department and show concrete results. Under the highly cohesive atmosphere of the whole department and the harmonious atmosphere of teachers and students, we believe that all tasks will be carried out smoothly. Goals and Core Ability
Features
In order to meet the domestic needs for industrial talents, educational vision of DMLM is to "nourish professional managers with the knowledge of marketing management, logistics management, and chain enterprises management." We hope through the curriculums incorporated with theories and practices, students will then realize the importance of teamwork, communication, internationalization, vocational ethics, morality, and continuous learning. Five objectives are listed as follows:
Based on department's core curriculums, we establish the knowledge-structured curriculums.
The curriculum emphasizes the development of practical skills through hands-on lecture, training program, corporate program, internship and capstone project.
We integrate theories into practices with diversified training courses include vocational ethics, professional practices, information technology, and application of foreign languages.
We value cooperation with industries and practical capability of professors and students.
Students have the golden opportunities to expand their global perspectives by becoming CYUT Elite Students, joining student exchange programs, and attending international conferences.
Educational goals
The goal of our department is to "train professional talents with professional ethics and social responsibility, as well as the marketing, distribution and chain enterprise management skills required by the industry.
Student core ability
Professional marketing ability
Logistics supply chain management professional practical skills
Information skills needed in the workplace
Good corporate ethics, work attitude and teamwork ability
Problem solving, lifelong learning and innovation ability
Language skills required in the workplace
Our Mascot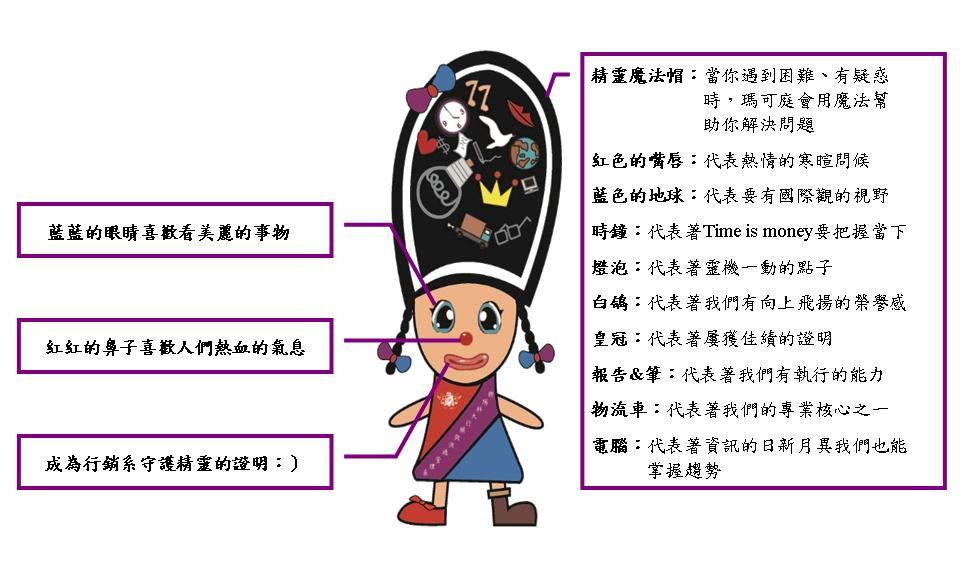 Height:3 height of the atomic pen
Weight:2 the original textbooks
Motto:Brave to marketing yourself